Mar. 16, 2020
Since the outbreak of novel coronavirus pneumonia, demand for anti-epidemic materials such as masks, gloves and protective clothing has increased sharply, and the amount of medical waste that carries germs has increased significantly. Only on February 11, 2661 tons of medical waste were collected nationwide. The effective collection and disposal of medical waste have become an important part of anti-epidemic work.
Recently, the state issued the work plan for the comprehensive treatment of waste in medical institutions, which requires all localities to strengthen the construction of centralized disposal facilities, improve the collection and transfer system of medical waste, and prohibit the mixing of all kinds of medical waste. In the afternoon of March 2, the safety recycling station line of hospital protective equipment developed and produced by Beijing Yingchuang renewable resources Recycling Co., Ltd. (hereinafter referred to as "Yingchuang") was officially released. This intelligent equipment equipped with a closed-loop traceability information system has the functions of "contact-free, anti-theft access, closed disinfection, classified recovery, full process traceability", etc., which is used for medical waste under the epidemic situation and in China, The problems faced by garbage disposal provide more safe and efficient solutions.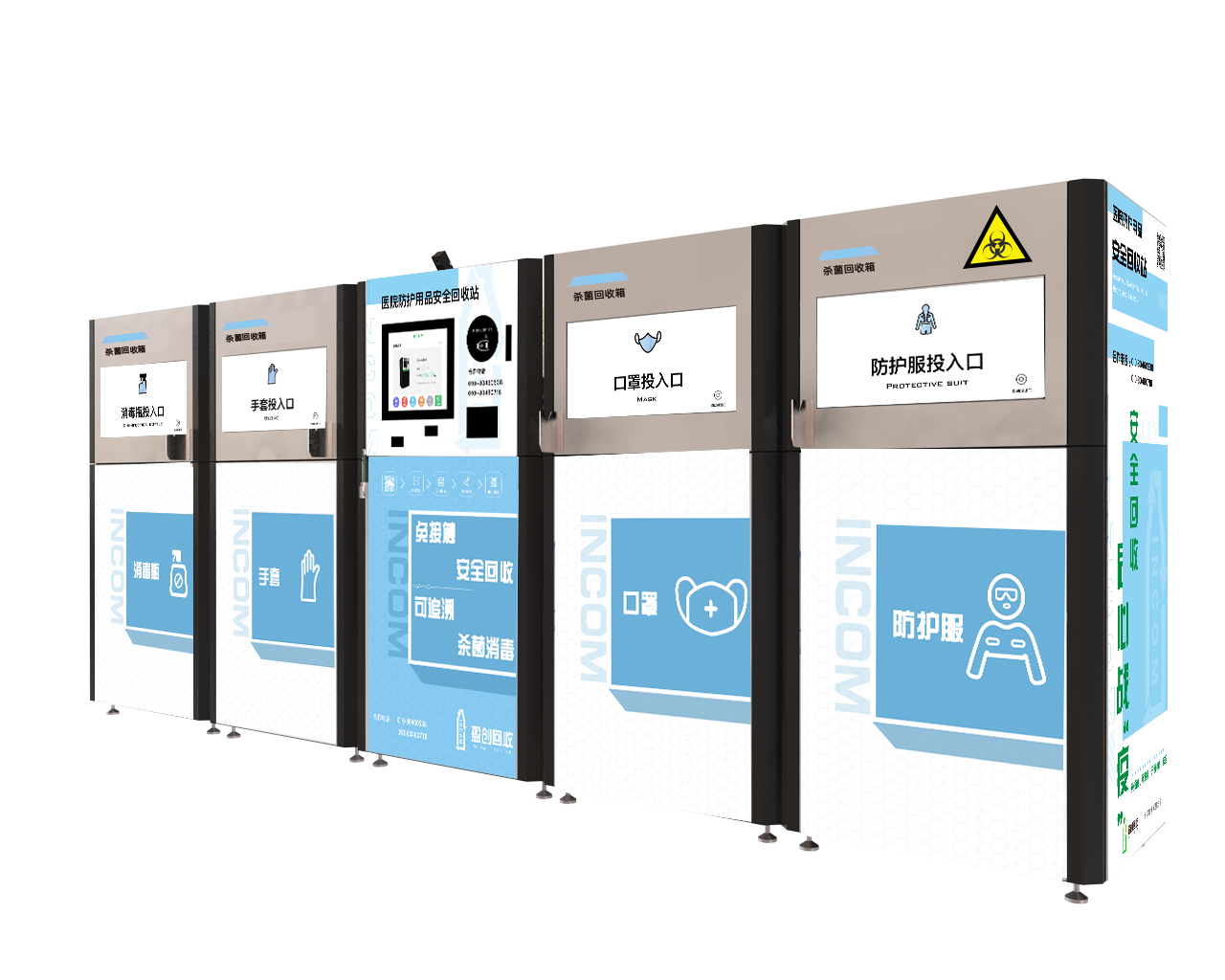 In view of the problems that need to be solved in the management of medical waste, the person in charge of Yingchuang thinks that we should think and deal with them in multiple dimensions: "every disposal link of medical waste is very important, but the traditional disposal and management methods lack retroactive conditions. In the plan issued by the state, it is emphasized that "medical waste shall be transferred and disposed in accordance with the technical specifications for centralized disposal of medical waste (Trial)", to prevent loss and leakage, and to explore the intelligent management of the whole process of collection, storage, handover, transportation and disposal of medical waste ". We are using intelligent and information technology to solve these problems. The participants in each link of medical waste treatment are included in the closed-loop traceability information system, and the electronic labels are generated by scanning the codes in each link one by one, and the corresponding time, category, quantity, image, responsible person, disposal node and other information are uploaded at any time and can be checked online. The access of information system makes the whole process of medical waste disposal traceable, greatly reduces the workload and error rate of manual operation, and also makes the management of medical waste more standardized and efficient. "
The reporter learned that this safe recycle bin can also be applied to civil scenes, in communities, transportation hubs, and other densely populated areas, to achieve the safe and classified recycling of protective equipment. Front end users can use mobile phones to scan code to realize zero contact delivery. The box body is regularly pre-treated with airtight disinfection to reduce the risk of clearing and transportation. At the same time, 360 ° anti-theft monitoring and door opening authority are set in the waste material breach processing module to ensure the safe storage of recycled materials in public places.
At present, Yingchuang is in the critical stage of epidemic prevention and control. As a leading intelligent machine and tool R & D and manufacturing enterprise in China, Yingchuang has innovated its products and launched the safety recycling station of hospital protective equipment, to a certain extent, it has innovated the traditional medical waste collection mode, and also provided more possibilities for the comprehensive specification and improvement of medical waste disposal level in the future. At present, many hospitals and social partners have made contact with Yingchuang, hoping to subscribe to the equipment. The person in charge of Yingchuang stressed: "we provide integrated customized service of product design, R & D and production, which can realize multi-scenario and multi-category recycling, and look forward to the victory of anti-epidemic as soon as possible."